Carpet Cleaning
Professional Carpet Cleaning
Carpets are wonderful floor coverings to have in any home, they give your home décor more color and texture as well as provide a warmth for those who like to walk around barefoot on cooler days. Unfortunately, keeping your carpeting as nice looking as the rest of your home can sometimes be a real chore, since that carpet is subject to daily abuse from a number of sources. Not only is that carpeting constantly walked upon, it also seems to attract spills and stains, and even odors. Eventually, there comes a time, when your carpet simply needs a good professional cleaning, and we here at Carpet Cleaning Humble can help restore your carpet to near it's former glory.

We Do Things Right
From the first moment we arrive at your home or business we do things right. Our skilled carpet cleaning technicians are all trained in how to effectively clean all types of carpeting including:
Natural or Synthetic Fibers
Low or High pile
Olefin
Berber
Shag
Custom made or bulk made
Of course our technicians can only clean your carpets well if they have the correct tools to get the job right, which is why we only use state of art cleaning equipment. Our state of art steam cleaners are highly effective at lifting ground in dirt out of those carpet fibers and then extracting them with the excess moisture from the cleaning process. In addition, we choose to use only the best organic cleaners. These cleaners are gentle on your carpet fibers, but powerful at removing dirt. They are also safer for children and pets than those toxic chemical cleaners some other carpet cleaning companies use.
We also have powerful organic stain and odor removers that will make those ugly stains and funky odors disappear as if by magic.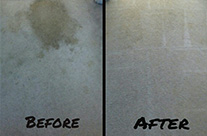 Residential or Commercial Carpet Cleaning
We are happy to provide you with either or both residential or commercial carpet cleaning, because we know that upkeep of your business is just as important as the upkeep of your home. In order, to make having your residential carpets cleaned as convenient for you as possible, we keep extended hours from 8 to 8 so that we can accommodate your work and activity schedule. In addition, we also offer all of our customers same day service to better help make your needs and those unexpected breaks in your busy schedules.
As business owners ourselves, we know that you don't want the inconvenience of having those carpets cleaned during open business hours when your own customers or clientele are walking around. In order to better meet the needs of your business we will be happy to work with you in scheduling a time when your business is closed. We also offer all of our customers whether they are residential or commercial customers the option of hiring our services on an as needed basis or on periodic schedule.
For more information about our carpet cleaning services, to book a free consultation, or to get a free estimate on how much cleaning your carpets will cost you, please call us at 281-245-1390 or talk to our online representative.